Legoland, JB - Water Park
Impulsively bought Air Asia's promotion tickets last month and I hopped on a plane headed to JB for short break. I deserved this break coz my life has been pretty hectic lately. Its always become a reason whenever I wanted a break from working life or family's problem. lol So, as the post title said; I went to Legoland. Only managed to visit the water park coz I'm broke and wtfish with the expensive entrance ticket people?! Hello. So expensive and its not even *extremely* fun there.

FYI, for entrance ticket for Water park only is RM95/adult with RM10 food voucher. For any other park or combo ticket prices, you can check here.
The entrance to Water park is a bit farther from the Theme park but it is within a walking distance; no worries. Upon entering, you can choose to keep your things and whatnot in the locker provided for RM20 (small) or RM40 (big) for the whole day and changed your clothes to appropriate swim wear i.e swimming suit, bikini whatnot. It's advisable to not wear any cotton shirt or short for any water activities in the water park or else you'll not allowed to play the rides and slides.
Photos taken from other website and I did back-linked all the photos to their respective source since I didn't bring my phone along - as I only bring myself to go and play. HEHE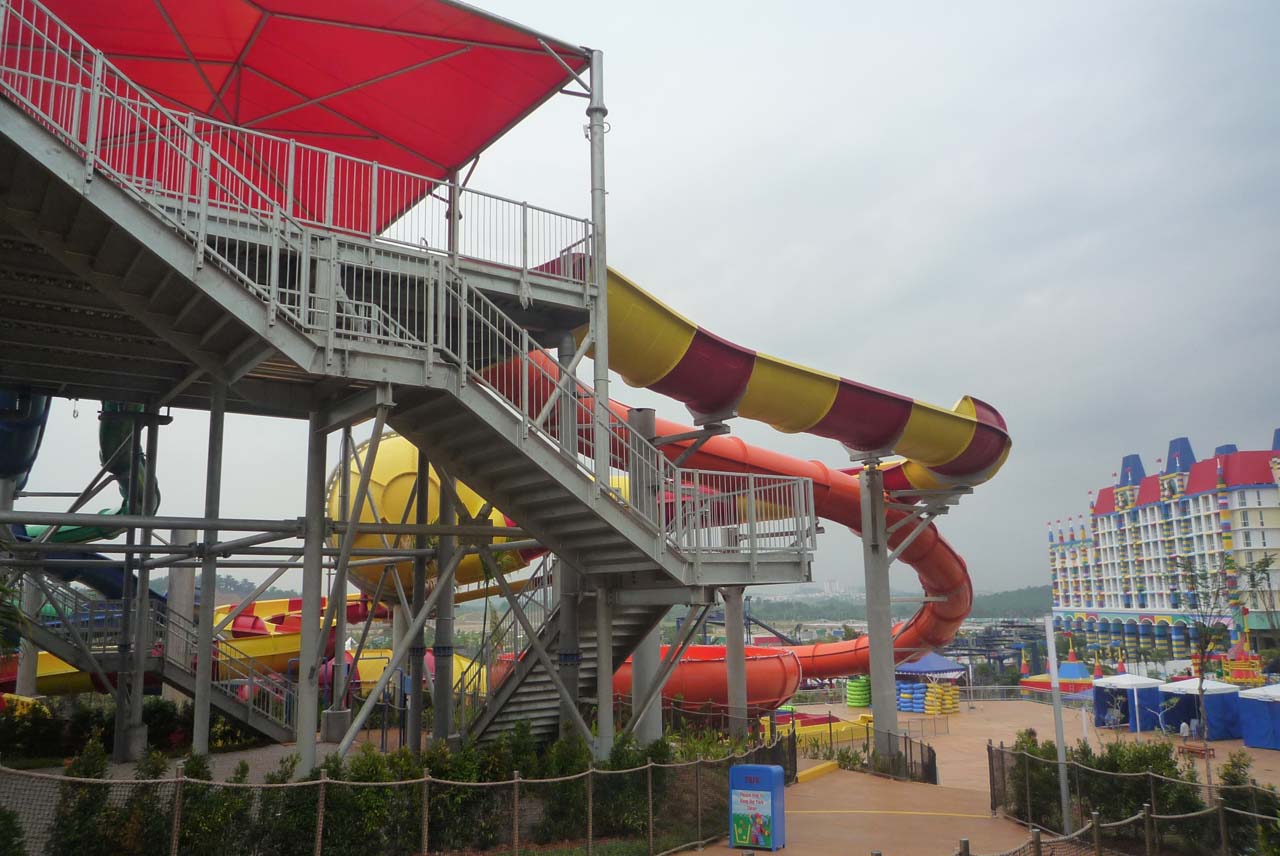 Some slides are MEH but some (I can count 3 only) are COOL. But of course all the cool slides; we have to takes flight of stairs with this heavy floats! Crazy but still worthed.
Behold, the slide racers. We played this 5 times and gave up for the six time coz its was crazy, madly tiring to go up the stairs!
We went around and finished trying all the slides and lazy pool in 1 freaking hour. For almost 100 bucks, I'm actually expecting MORE and I guess none of these can beat USS so far. I even over-heard some tourist from Philippine saying that USS is much better. HAHA After lunch which of course cost more than the free RM10 food/drink voucher; we rest a bit and I continued roaming around the wave pools - ALONE coz my companion is zzzzzz away. (He extremely think Legoland water park suck and boring. HAHA) After few more round of our favourite slide, we decided to call it a day and went to our locker to changes our clothes. I'm pretty much impressed with the cleanliness of the changing room/toilet and the whole park itself. Bravo to the housekeeping team.
Will I recommend Legoland - Water park to visit? Hmm.
Yes, definitely if you're with kids but for those young adult seeking for extreme water activities - SAVE YOUR BUCKS FOR USS.
But if you still want to visit; please go ahead. But please do not place any high expectation tho. TEHEE