Sincere Apology
Truly from me to Mr Secret Admirer, which is not a secret anymore. So, I will call our Mr Secret Admirer = Mr. D. I've known Mr D for a few months now, after my confirmation as permanent staff in the Company where I work atm. You know how these kind of thing happened, a new staff came in and there's no sign of ring on her fingers and people never saw her partner etc etc, they assumed she is single (When actually she is not! I have invisible ring on my finger! SEE! Of course you cannot see lah, it's invisible). Thing started as a rumor, this Mr D confessed to one of the staff and ask her to introduce me to him. He passed his phone number to this staff and she forgot to pass to me. A month of tortures being told again and again about this Mr D who seems really interested to know me more but I never saw him or meet him.
"I have been waiting for 3 months for you. I am really happy when you finally contact me." He said.
I can explained that. When I thought he is really interested in me, I ask those match-maker staff, why he didn't introduce himself to me? Too bad. They said he has been posted to our other branch in Sandakan and they are not sure when will he come back. So I feel cheerily and secretly happy. No need to deal with stuffs like this since the fate already helping me. lol. However, in one fine morning, this big guy with an awesome - cute - clean cut Mohawk hairstyle come in to the office to meet my co-worker. I got this terrible tinge and butterflies inside - Its HIM. Yes. Its Mr D. He's back. FYI, I never meet him before and I honestly don't know how he look like but somehow I know him. Creepy I know. Once the match maker staff know he's back, they mentally force me to miscalled him. I am stupid and I did it. That day, no reply from him but the next day, he reply saying that he miss me etc etc.
So that started this whole misunderstanding and mentally cheating kind of situation.
Things work out really well. I know he really like me but I told him that I've someone else. He might not be here in Sabah at the moment but we have been together for a very long time. He accepted the fact that I'm not single though he said he was really dissapointed, sad and broken-hearted. We continue whassap-ing with each other like a normal friend do. Typical questions of have you eat? What's the menu in Canteen today? Are you ok? Why you look sad? ETC At that moment, I feel really happy. Maybe because Boyfie was so busy and he rarely spend time with me and spending time chit chatting with Mr D kind of making me feel like someone special again. Everything is so colourful. I laughed a lot. I joke a lot. I admit that I longed for those kind of special treatments from the Boyfie, he abandoned me for I don't know how long until I finally raised up all those issues. Mr D is a very good man, funny, good looking and caring. I might fallen for him or maybe already?
"One day, I will kidnapped you and force you to marry me. I don't care about your boyfriend or fiance'. I just want you."
He probably thought of this on every conversation we had. So sorry.
I know I've been sending him a mixed signals since New Year. I joke and even dare him if he really want to kidnap me. -.-" Don't ask. I don't know what was I thinking at that particular moment. But then I suddenly feel really awkward. He ask me to send him my photos so that he can use it as his phone wallpaper (which I stupidly promise him during he was sick to cheer him! Stupid. Stupid.). I don't know what else. Then just like that, I didn't reply to any of his chat/message in one day and the next day I gave him "I am sorry. I am very busy" excuses. He knew that I was doing everything on purpose. When I ask for an apology, he just said "I don't know what else to say to you. I know I'm not worthed and good enough for you" etc etc. I feel so guilty until now. Until this moment. Because I gave him hope and I took everything away before he can show me his real self. I don't know which one is worst; my stupidity for plunging into these whole new level of relationship or the fact that I was doing it because I hate that my Boyfie didn't have time to spare for me so I flirted with innocence guy to get back to him. I have wounded his feelings and I sincerely never meant that.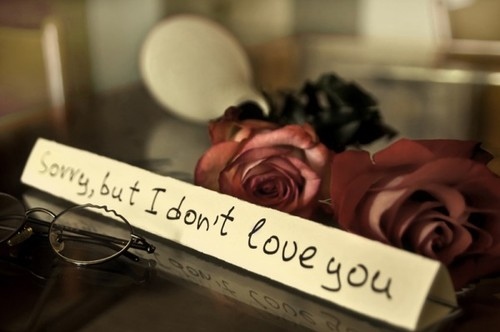 Today I saw him again after a week of those incident. I didn't dare to look at him. I put on my mean bitch's face and look away. He walked pass me and he didn't say anything or even smile. We're like strangers now. I know we could never be more but I do value our friendship.
Dear Mr D, I am really sorry for what had happened. I know it was my faults. I am sorry that I couldn't be the one for you. I love someone else but I sincerely pray that you will find your true love soon too.
P.s I'm not cheating on my Boyfie. Its only flirting and he know about Mr D.